Nature
print $node_det->field_strapline['und'][0]['value'];?>
Nature, in terms of animals and plants, are increasingly involved in digital technology and interaction design. The growing inclusion of other species besides the human in digital technology and user-computer research opens up new possibilities and forms of interactions. It contests the traditional notions of what a user is and can be. Consequently it also challenges our previous theoretical foundations for understanding interaction. Drawing on ethnographic fieldwork this project explores different theoretical approaches for understanding the sprouting dynamics of these new forms of multispecies-computer interactions, and also how these insights can excite the imagination and be generative for design.
The emergence of Animal-Computer Interaction (ACI) has pushed an agenda of seeing the animal as the new human to design for and with. The most common established forms of interaction within ACI research are direct and dyadic interaction, and are limited to domesticated animals such as working dogs and pets; in other words they are very similar to human-computer interaction. We have contributed to this strand of research by articulating the role of the leash in mediating between owner and dog, and suggesting new forms of design. We also extend how "interaction" can be conceptualised in ACI. Drawing on an ethnography on the use of mobile proximity sensor cameras in ordinary wild boar hunting, we emphasise a strategic, complex, diffuse, and not directly observable form of interaction involving wild animals in a both technologically advanced and natural setting.
Plants have foremost been reduced to a design material or resource that can encourage a more emphatically engaged interaction and lead to new human experiences of technological systems. Something appears to happen with the interaction when the organic and biological is blended with the artificial and technological. We are currently exploring this intersection by drawing on an ethnographic study on peoples' adoration for the cherry blossom and their social and ritualized photographing practices, and reflecting upon what this is in terms of interaction.
Much of our fieldwork is oriented towards research sites where multiple species meet and where technology already seems to play an important role. We interact with nonhuman species in many different ways. The possibilities of these new fields are ostensibly broader than just designing for working dogs or inviting to more emphatically engaged interactions. In this project we stress the role of empirical investigations and theory to reconsider the potentials of these embryonic fields by developing perspectives on the "I".
Contact: Oskar Juhlin, oskarj@dsv.su.se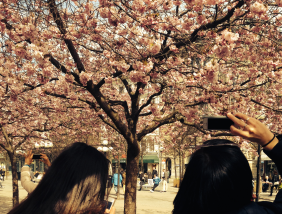 Cherry blossom in Kungsträdgården, Stockholm
Wild boar on proximity sensor camera