Pervasive games
print $node_det->field_strapline['und'][0]['value'];?>
Pervasive games are a curious form of culture. They exist in the intersection of phenomena such as city culture, mobile technology, network communication, reality fiction and performing arts, combining bits and pieces from various contexts to produce new play experiences. The family of pervasive games is diverse, including individual games ranging from simple single-player mobile phone games to artistically and politically ambitious mixed reality events. Some games use high-end technology, while others can be realized with no technology at all.

Visibility and Social Expansion. Pervasive games are always played among people that are not themselves playing, and players will often interact with other players as well as with bystanders. We explore play in public space, deliberately emphasizing play activities that are publicly visible and leave public traces. We also explore play in mass media, studying the emergent interaction between pervasive games and TV, film, books and daily newspapers.

Deep engagement. Previous research in the group has shown the critical potential that pervasive games offer from creating deep player engagement. One goal for our research is to create example games that provide opportunities for deep player engagement in difficult issues; these are arenas for learning and reflection.

Tools for development and game-mastering. Game mastering has proven invaluable in pervasive games. The goal of successful game mastering is to strike a balance, where the game can respond to player improvisations and (in the case of pervasive games) real-world interventions without becoming just an open playground where anything goes. However, a huge challenge with game-mastering is to mix automated and manually controlled gameplay in ways that allow for large-scale games without losing the human touch that game-mastering allows. This, we address primarily through the development of tools that support authoring as well as orchestration of pervasive games.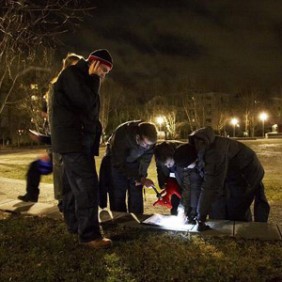 Also See:
Members:
Annika Waern
Elena Márquez Segura
Jon Back
Kim Nevelsteen
Syed Naseh
Marie Denward
Connected Projects:
Publications:
Partners:
SICS Swedish ICT